Piper™ Rose Gold Press Pot
$ 39.99
Tea served out of a Rose Gold french press just tastes better. With it's 34 oz capacity, Stainless steel filter and press, and on trend copper-plated stainless steel frame you'll be serving up the hottest cups of tea on the block!• Holds 34 oz • Borosilicate glass & rose gold finish • Brews tea & coffee within minutes • PKG: Box Disclaimer: Shipping cost to Hawaii and Alaska is $15.
Probably Beer Enamel Mug by Foster & Rye™
$ 29.99
I mean… it's probably beer. Why not say so? Declare your love for beer loud and clear with this vintage-style camping mug. Great for coffee, beer, or anything you dang well please. Bottoms up! -Durable enamel-coated stainless steel -Blue mug with stainless steel rim -Accommodates 16 oz comfortably -Sports a cheeky declaration -Makes a great gift Foster & Rye combines rugged utility with quality materials and classic vintage stylings for barware accessories that stand the test of time. Discover metal camping mugs, novelty bottle openers, and leather flasks that are perfectly at home on your bar cart or in the great outdoors.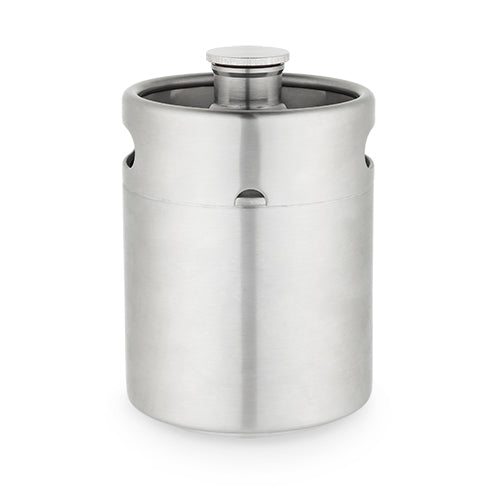 Tanked 64oz Growler Keg
$ 39.99
$ 45.99
Get your hands on a gift that any beer lover would buy! The Tanked Growler Keg is a tour de force, outfitted with dual handles, an airtight rubber gasket and a durable stainless steel frame. At a capacious 64-ounces, it guarantees the safekeeping of any beverage - from home-brewed beer to an ale chosen straight from the still. Holds 64 oz Fill up at your favorite brewery Small enough to fit into your fridge Rubber seal keeps beer fresh for longer Great gift for any beer lover Holds 64 oz Small enough to fit in fridge Rubber seal keeps beer fresh for longer PKG: Belly band
5 STAR REVIEW
"Our dog loves the treats! Great variety and well packaged. Good value."
- Jocelyn D.